Cowiche Canyon Conservancy's Rocky Top Trails offer a unique combination of wildflowers, shrub-steppe, graded single-track mountain biking trails, and breathtaking views of the Yakima Valley.
Frequent hikers and mountain bikers have seen this special environment change dramatically since DTG Recycle took over the nearby landfill and purchased a significant portion of the surrounding property three years ago. Mounds of dirt and new roads are a reminder of increased traffic, while trail closures, litter and unwanted odors raise concerns about the future of beloved trails.
"There's been a lot of impacts, unfortunately, mostly in terms of encroachment on the trail system here, and I realize that's their land," Dan Richmond said after a mountain bike session on Saturday. morning last month. "It's really unfortunate and I think I would probably mind less if they worked with trail development."
Rocky Top Landfill Expansion Plan Angers Neighbors, Triggers Environmental Investigations
Residents who live near DTG have raised similar concerns about a lack of communication and last February formed Friends of Rocky Top, a group created to hold DTG and facility regulators accountable. Since 2020, neighbors have sent hundreds of complaints to the Yakima Health District and the state Department of Ecology regarding a wide range of concerns, with litter and odor being the most common topics.
CCC executive director Celisa Hopkins said she's also heard from many trail users, many of whom are wondering what will happen to the 15-plus-mile system located mostly on DTG land. Hopkins said she is in regular contact with DTG. While she declined to go into the specific details of those conversations, she said the goal was to preserve the trails while respecting the need for public safety around the construction.
"Our mission as an organization is to protect the shrub-steppe, and this trail system is an important community asset," Hopkins said. "So the conversations with them are about what we can protect that's still intact on the trail system and how can we work with them that way?"
DTG did not respond to multiple requests for comment, except to say it operates within the limits of its permits.
Land ownership
A wide variety of entities share ownership and management responsibilities at Rocky Top, where Yakima's Single Track Alliance began building its trail system in 2011.
STAY maintains the trails for CCC, which holds a conservation easement near the parking lot on a portion of the land crossed by the main equestrian trail. STAY built the Walk N Roll Trail in the southeast section with permission from the City of Yakima on 39 acres it owns south of the CCC easement, and farther west, the William O. Douglas Trail Foundation also holds a conservation easement.
But most Rocky Top trails reside on land purchased by DTG from Ron Anderson in January 2020, when the company purchased his limited-use landfill, which is licensed to salvage or recycle waste concrete, asphalt, of metal, plastic and wood. It was Anderson who gave STAY permission to build his trails, giving them a lot of freedom and mostly staying out of the way. Anderson should not be confused with Yakima County Commissioner Ron Anderson.
That all started to change in September 2020 when DTG closed the Gus's Gully Trail, followed by a partial closure of the popular Wholly Moses Trail a few months later. STAY President Pat Huwe and Vice President Will Hollingbery said the most impactful closure recently occurred on the upper Ha Ha Ha Ha Trail, a key connector on the hill near the William O. Douglas Trail.
County Commissioner Amanda McKinney represents the district, financially supports the CCC, and considers herself a Rocky Top Trail user. She said that in conversations with her over the past year, DTG has expressed a strong commitment to allowing trails on her property for the foreseeable future.
"Not only that, but when I met with them they said that as they expand their operations they also want to expand the trail opportunities," McKinney said. "They also indicated to me that when they were finally approved to officially cover each cell, they would turn to conservation for guidance and advice on what native plants they would like to see planted."
FORT consultant Scott Cave shared email correspondence from Ecology, Yakima Health District and DTG showing that the company, which announced plans to "operate the largest materials recovery facility in region" in 2019, cannot move to its next cell until it meets certain requirements to address various regulatory issues. Hopkins and Hollingbery said it was unclear how this cell would affect trails.
Hollingbery said DTG told him the trails wouldn't be damaged for 40 years, so it came as a surprise when they cut off access to Wholly Moses for the second time, forcing him to build a quick reroute. Huwe said they plan to repair the trail again this fall to restore it to its original length in a more sustainable location.
"We've never really encountered a situation there where we have to go around an obstacle that the track doesn't improve a second time," Huwe said. "The new one will be nice."
Complaints from neighbors
While many of DTG's neighbors also share concerns about Rocky Top, they are more focused on the company's compliance with regulations and the potential health risks they have observed on their own properties.
Carole DeGrave, a longtime owner of a home at the top of Pioneer Way with property next door to DTG, grew concerned when she saw work ramping up dramatically in early 2020. In April, she hired Cave, a consultant with over 30 years of experience in Eastern Washington works with local governments and the solid waste industry regarding groundwater.
In addition to the constant noise, DeGrave began noticing sewer odors when she went outside, causing her to keep a daily diary to gauge the intensity of the smell which sometimes gave her headaches. Records show other neighbors have filed similar complaints with the state Department of Ecology with Randy Abhold – the neighbor closest to the landfill pit – describing it as "smelling like bleach." and paint thinner all at once".
In October 2021, Paul Herke, who owns 320 acres with an orchard next to DTG, reported that more than 55 pickers and others suffered headaches and nausea from the fumes. He said it lasted about two days, mostly in the morning, and although the smell was often present, it never reached the same intensity.
"Sometimes it smells rancid," Herke said. "Certainly not like a mold. More like filthy rot.
He and other neighbors have encountered litter issues, particularly in the summer of 2021, which have also spread to nearby Rocky Top trails. Cave and local resident Nancy Lust sent emails to the Yakima Herald-Republic showing repeated requests from Ecology and YHD for DTG to address its waste issues.
Eventually, the company hired someone to regularly pick up the trash and also installed a fence to keep the trash from blowing off their property. Lust and Hopkins said those efforts have proven successful.
DeGrave said the smells haven't been as bad this summer, mostly due to efforts to cover and pack down toxic plumes from the landfill. Along with Cave and others, she remains concerned that these chemicals could create problems elsewhere.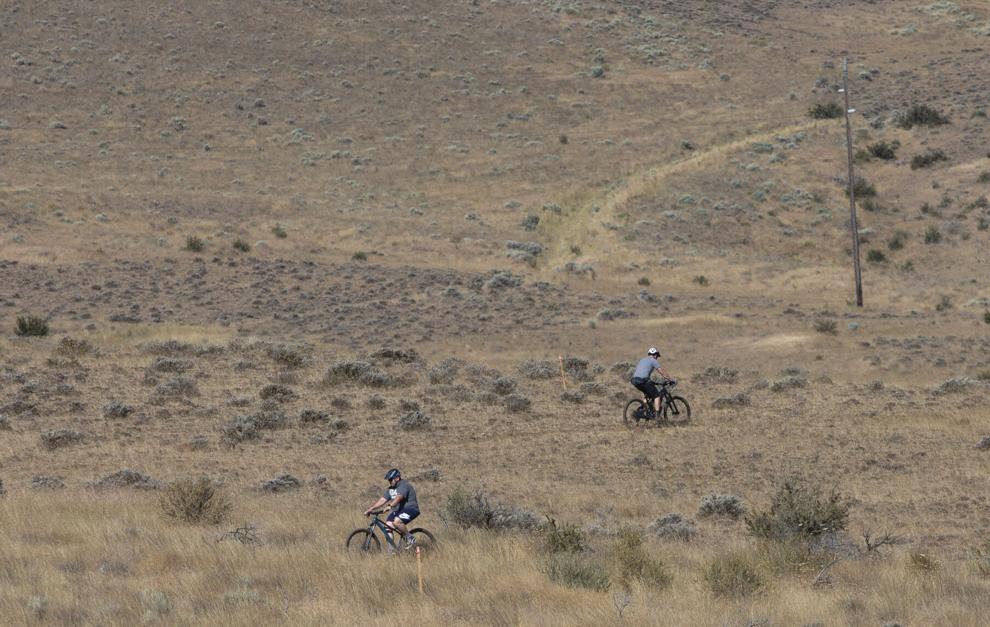 Uncertain future
McKinney said complaints from neighbors prompted her to speak to everyone involved in hopes of improving communication, and Ecology's James Rivard set up a meeting with representatives from FORT, DTG and YHD in June. .
Lust believes efforts to build trust have made progress and she is cautiously optimistic about DTG's new local manager. But FORT still has many unanswered questions as DTG works with regulators to ensure compliance.
"Honestly, I'm not sure about this company because part of me wants to believe that they're working to make the environment better and really trying to recycle and do the right thing," Lust said. "Then part of me just feels like, 'I don't always believe what you say.'"
McKinney is encouraged by recent conversations between the groups, and she's confident DTG is providing a net positive for Yakima. She advises all parties to talk to each other more, believing they will find that they share many common goals.
Hollingbery spent countless hours building trails at Rocky Top and elsewhere, always fully aware that they wouldn't last forever. Still, he wants them to last as long as possible, and Huwe said they will continue to rebuild the trails and adhere to private property restrictions.
Huwe also praised DTG for helping to keep alive the dirt pump track next to the closed Gus's Gully trail. DTG pays for the water rights and Huwe hopes STAY can deepen the relationship between the two entities to keep the trails in good condition.
Jacinto Nunez, an avid mountain biker since moving to Yakima 2½ years ago, said he was sad to see all the changes and what seems like more to come at Rocky Top. Views aren't quite what they used to be thanks to the expansion of DTG, but he still appreciates the ability to get out when he can.
"I've been to the other one (trails in Yakima) but by far I like this one, not just for the practice but just for the hill itself," Nunez said. "I'm from the Tri-Cities and we had Badger Mountain there, but Rocky Top has the same feeling for me. It's quite a special place. »